All 12 of Cinnabon's Baked Goods Ranked for Sugar Content. It's time to get sticky – because, in this post, I am going to be ranking all 12 of Cinnabon's baked goods in terms of sugar content. Now, if you are looking for a lower sugar snack you may be thinking that Cinnabon is off the list, but you would be wrong. While yes there are some high sugar snacks, believe it or not, there are a few items with 20g or less of sugar. In the post, I list the sugar content for each of the baked good items, so you know exactly where you stand when it comes to sugar and Cinnabon treats.
What is the Sugar Content of Cinnabon Baked Goods?
As a general rule, the lowest sugar-baked items at Cinnabon are the Churro Swirl (10g), the Cinnabon stix (12g), CinnaSweeties (13g), and the Minibon rolls and BonBites. For example, a Minibon roll only contains 24g of sugar, whereas the full-sized version of the Cinnabon classic roll contains 61g of sugar.
What is Cinnabon?
Cinnabon is a chain of baked goods stores usually found in high foot traffic areas like malls or airports. You usually find them as kiosk stands. Most famous for their cinnamon rolls, they also offer a collection of other baked items. I will go through all of them.
How Much Sugar is in a Large Cinnabon Cinnamon Roll?
A large Cinnabon Cinnamon roll contains 61g of sugar and comes in at 880 calories per roll.
How Much Sugar is in a Cinnabon?
1. Churro Swirl – 10g of Sugar
The lowest sugar item on the Cinnabon menu is the Churro Swirl coming in at 10g of sugar. The Churro Swirl at Cinnabon is topped with their world-famous Makara cinnamon and sugar.
2. Cinnabon Stix – 12g of Sugar
The second lowest sugar item at Cinnabon is their Cinnabon Stix which contains 13g of sugar. These sticks are perfect for dunking in a cup of coffee.
3. CinnaSweeties 5 Count – 13g of Sugar
The CinnaSweeties at Cinnabon are bite sizes doughnut treats rolled in Cinnabon's cinnamon sugar. They are a "perfectly poppable treat". One portion contains 5 CinnaSweeties which contains 13g of sugar. This does mean that each Cinnasweetie only contains 2.6g of sugar – making it an even lower sugar treat if you are sharing a bag.
4. Cookie BonBite – 20g of Sugar
A cookie BonBite consists of "ooey gooey cinnamon rolls INSIDE chewy chocolate chip cookie". One cookie BonBite contains 20g of sugar.
5. Minibon Roll – 24g of Sugar
If you love going to Cinnabon for the classic cinnamon rolls that they are famous for, but you are watching your sugar intake, then a minibon roll could be a great option for you. One minibon roll only contains 39% of the sugar (24g of sugar) of a full-size Cinnabon roll. Win.
---
Want To Know Sugar Content of Other Sweet Treats
Do you love sweet treats (donut anyone?), but are watching your sugar? If you are then check out some of my other posts on other popular sweet treat chains:
---
6. Cinnamon BonBites – 27g of Sugar
A serving of cinnamon BonBites consists of 4 adorable bite sizes bons. All the Cinnabon flavor you love. Each cinnamon classic bite contains 6.75g of sugar – so if you share a bag, they work out even lower sugar content.
7. Caramel Pecanbon Minibon Roll – 33g of Sugar
The caramel pecanbon is made of Cinnabon's signature Classic Roll, topped with decadent caramel frosting and pecans.
Sounds delicious, but a full-sized is the highest sugar-baked item on Cinnabon's menu (see item 12 below). If you love the sound of the caramel pecanbon (and who wouldn't) but don't want to eat 77g of sugar in one sitting then I have some good news – Cinnabon has a minibon roll version of the caramel pecanbon which clocks in at half the sugar content at 33g of sugar.
8.  Caramel PecanBon Bites – 34g of Sugar
Even better news – Cinnabon also has bite versions of their caramel pecanbon which contain 8.5g of sugar each. If you eat the whole bag (4 bites) that contains 34g of sugar.
9. Center Off the Roll Classic – 60g of Sugar
The classic center of the roll is the ooey gooey center of a cinnamon classic roll. The classic center of the roll contains 60g of sugar.
10. Caramel Pecanbon Center of The Roll – 61g of Sugar
The ooey gooey center of a Caramel Pecanbon clocks in at 61g of sugar.
11. Cinnabon Classic Roll – 61g of Sugar
The OG world famous cinnamon roll at Cinnabon contains 61g of sugar. These rolls are made of "warm dough, legendary Makara cinnamon, and signature cream cheese for a freshly baked, irresistible sweet treat".
12. Caramel PecanBon – 77g of Sugar
The caramel pecanbon at Cinnabon consists of their signature Classic Roll, topped with decadent caramel frosting and pecans for the perfect crunch. Not unsurprising it contains the most sugar out of all the baked items at 77g of sugar.
If you need to have a bite of this roll but want to lower the sugar content, then go for the Caramel Pecanbon Minibon Roll which contains half the sugar at 33g of sugar.
---
Cinnabon Baked Goods Ranked – The Final Bite
Cinnabon Baked Goods Ranked. Let's face it, we have all been there. You are walking in a mall or airport and suddenly get a whiff of some baked Cinnamon Rolls. To lure you in even more there is a person giving out free mini samples of the Cinnamon Rolls…OMG I need one. The good news is that whilst you are not going to be able to avoid sugar eating at Cinnabon there are some lower sugar options available. In fact, I was surprised when I found out the Churro Swirl, Cinnabon Stix, and Cinnasweeties all contain 13g or less of sugar. And, if you just really really really want a cinnamon roll then opt for the minibon roll which only comes in at 24g of sugar instead of 61g of sugar for a full-sized one.
If that still doesn't do it for you, then you can always buy a full cinnamon roll…and just share it. That will reduce the sugar content – plus imagine how much the person you share with will love you for it.
And Remember…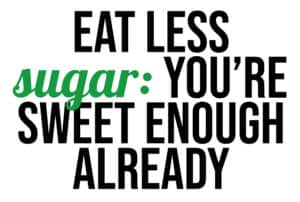 Ingredients and/or manufacturing processes may change. Always double-check ingredient lists and nutritional information before purchasing any food items.
---
WANT TO FIND MORE LOW SUGAR OPTIONS?
Do you want to learn about some other low-sugar options at your favorite coffee chains, fast food, or restaurant joints, or just while you are shopping for groceries? If you do, then check out some of my other articles below: